An Estate Agent's Guide to the Northern Quarter
Are you looking for properties in Northern Quarter? Learn more about the Northern Quarter area below.

Northern Quarter is the colourful and cultural epicentre of Manchester, appealing to artists, musicians and other creative individuals. Almost every surface is decorated with exceptional street art highlighting the talents of the locals – almost like an outdoor art gallery!

The vibe here is different to elsewhere in Manchester, with grassroots initiatives and bold statements at the core. Businesses are typically independent and individual, with many commissioning painters and graffiti artists to decorate their shopfronts.

Situated on the north-eastern edge of the Mancunian way, the boundary between the Northern Quarter and Ancoats has become somewhat blurred, but the most reliable marker could be considered as the Great Ancoats Road, which is also part of the Mancunian way.

The streets haven't been pedestrianised, but you could be forgiven for thinking otherwise as those on foot tend to spill out on to the roads, and drivers both expect and accept it. There are plenty of cyclists, possibly as parking on the streets can be tricky, but if you rely on public transport, you won't have a problem as the Northern Quarter is right in the middle of two of Manchester's biggest train and bus stations.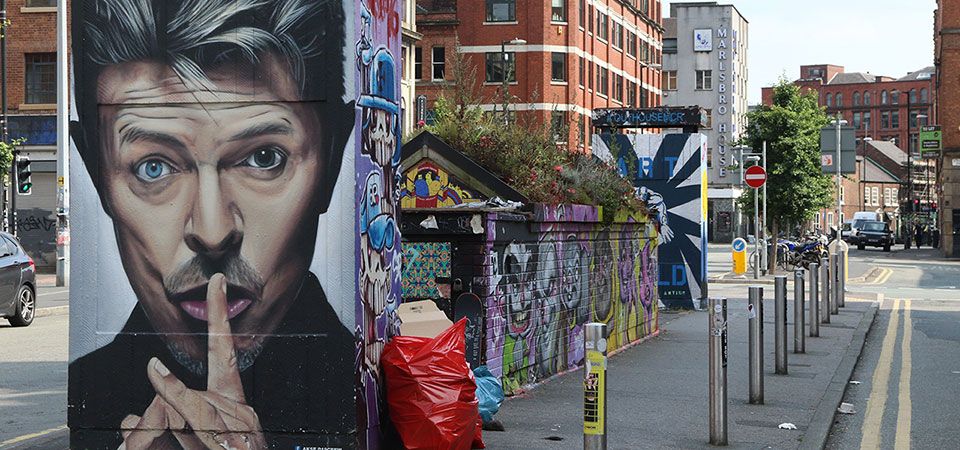 A rich mix of people live in the Northern Quarter, but you can typically expect to find professionals who work in the city centre, as well as local creatives and students who fill the area's cafes, bars and event spaces.

Food and entertainment wise, there's so much to choose from here. There are many independent businesses offering cuisine and dishes you won't find anywhere else. Serious shoppers, however, are better off elsewhere. Those looking for something unique will love it here – plants, vintage clothing, shoes, art supplies, independent magazines, records and craft beers are plentiful. There's also a monthly Sunday market which is great for one-off gifts, paintings and artworks.

Our experienced sales and lettings agents covering Northern Quarter and the surrounding areas, would be happy to advise you if you wish to buy, sell, rent or let a property in the Northern Quarter area of Manchester.